Limousine Taxi is a project managed by Roberto Ruggieri, a driver with over thirty years of experience, gained especially in the beautiful area of Cernobbio, Italy, a resort over the world-famous Lake Como.
My story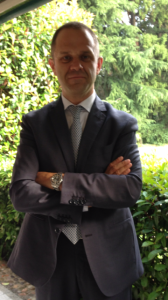 I was born in 1968 in Gonzaga, in the province of Mantua, Italy, and I moved to Lake Como in 1971. At the age of twenty-one I bought my first taxi and started carrying around tourists and businesspeople who were staying in Cernobbio and in the surrounding area.
The area of Lake Como, with its beautiful landscapes and its legendary five-star hotels—such as the Hotel Villa d'Este in Cernobbio, the Serbelloni in Bellagio, the Casta Diva in Blevio, and the Grand Hotel Tremezzo—allowed me to work directly with sophisticated and demanding guests.
Since 1994, without ever leaving my taxi, I worked as a chauffeur and personal assistant, in the service of the business, culture, entertainment, and sports industries.
The experience that built me up the most was with an American whiskey magnate from Kentucky, who I accompanied as a driver, assistant, and person of full confidence for many years, both on Lake Como and across Italy and Europe.
In 2013, I began to manage Futadera SA, a company that offers complete taxi and limousine services both on Lake Como, Italy, and in the south of Switzerland. In Switzerland we serve both the area of the Lake Lugano—with its fabulous hotels like the Prince Leopold, Splendide Royal, Villa Castagnola—and the nearby ski resort of St. Moritz, which features hotels like the Palace, Kempinski, Suvretta, and Kulm.
Thanks to a team of drivers with decades of experience, Futadera SA is able to offer transfer and full accompaniment services, which include taxis, limousine rentals, car rentals with drivers, and drivers for customers' cars.
We run the transfer from Cernobbio and Lugano to Malpensa and Linate airports, transfers over long distances, and accompaniments in general, both for tourism and for business purposes. We can also provide a concierge service for every need and search for other means of transportation, such as helicopters, yachts, and jets. Our service is customized, reliable and ensures privacy and confidentiality.
A small personal note: I have been passionate about powerboating since 2001.
I was the world champion in 2009, and I have collected many Italian and European qualifications. I became the Sporting Director of the Como Yacht Club in 2013.